Messages

80
Reaction score

164
Location
This will be a lengthy one so if you just clicked for the final build photos, sorry to disappoint, check back in here next week.
First up, how's everybody? I hit a few life speed bumps even before the 'rona and I haven't been able to shoot at all. This build was meant to be a side project while I was shooting smallbore over the winter last year and to maybe get into service rifle competitions this year. Time, money, motivation— I didn't have the right mix until a couple of weeks ago...alright, on to..
THE BUILD
Why? Almost all the guides I read online and even some posts here recommend a factory rifle for a first AR. Honestly, I would have bought one off the shelf IF ONLY the local shops had one in stock. Talk about bad timing, trying to get a gun when everybody else wanted one as well.
My father in law asked me to accompany him to a local gun store, he wanted a shotgun for home defense (I'll post the Remington 1100 he got sometime)...and there was an Aero stripped lower at the first shelf nearest the entrance.hahaha
OK, frankengun it is...
A disclaimer of sorts: I wanted a rifle that will handle (if not function) as close as possible to its competition-ready configuration. Any description of how to reverse NY compliance is intended w/ out-of-state events in mind.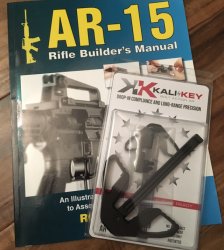 This is the first part that I bought. Mid-December last year, I had a whole different idea into how I would want this thing to function. I was mostly thinking "slow fire on my belly, easily reversible compliance" and I thought the Kali Key fit the bill. I have completely changed my mind since then, I now think in terms of swap-able lowers/uppers/parts that serve a training purpose while being compliant.
But for its first configuration, I wanted something I can use to practice high power service rifle.
to be continued.
Last edited: