Messages

611
Reaction score

1,032
Location
I have an annual membership to a nearby pistol range. I visit weekly to practice shooting unsupported and offhand with my carbine.
I purchased the Ruger PC9 in March 2019. I spent the next year shooting at least once a week. Ammo was relatively cheap and plentiful. However, after March 2020, the PC9 has spent much in storage. Ammo is just now beginning to be available. But, it is still punishingly expensive.
After thousands of rounds, I can give an extended critique.
The Ruger PC9 in 9x19mm is tremendously fun to shoot. The 10/22 lineage of the original Police Carbine shows in this descendent. My only criticism is that the rifle requires a fair amount of maintenance. The action needs to be cleaned and screws need to be periodically checked.
My PC9 is modded with a neoprene cheek pad, Bushnell TRS25 red dot, and an Midwest Industries m-lock handguard. There is a magpul hand-stop to act as a forward grip and a side mounted rail for a tactical flashlight. The ambidextrous charging handle is in the left-hand position. shoot right-handed, but I like to use my support hand to run the bolt.
I run magpul pro-mag 10-round Glock magazine with no issues.
The moment the safe-act is repealed, I'll be first in line to buy a proper AR. Until then, this is it.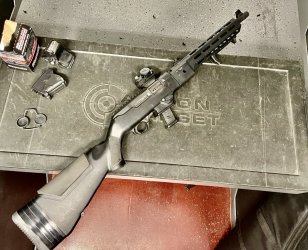 Last edited: