So, I had a chance to shoot the new Glock and as I mentioned in another thread it gets 2 thumbs up from me. When I first picked the 43x up it hit my hand well as it did for the 2 other guys at the range. I have medium small hands, one guy have large hands and the other has very large hands so I think most will be happy with the feel of the pistol. To me it does not feel like a pocket pistol with a longer grip. I really liked the balance and it pointed very naturally. When dry firing the trigger felt very nice, to the point I would not see the point of changing it. The 2 other guys have G43s but neither one brought one,

but I mentioned that I thought the trigger was nicer than the G43 and they both agreed. Both of them have swapped out the connector but didnt think that it would be needed. So after the initial feel of the pistol I was very excited. That said I dont know why Glock did not design in a grip panel system like the other models. The grip does feel nice but I think it was an opportunity missed. Time for a pic....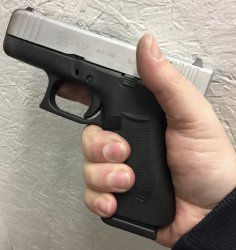 I did have my G26 for comparison. The full grip and thinner profile makes it feel much more comfortable of course that is subjective. The short grip of the G26 is real easy to hide, but not much to grab when pulling from a holster. The 43X is a good bit thinner but did not have holsters available to see how much difference it would make while carrying but I would guess it would be noticeable. Holding both the 43X is obviously lighter in the hand but not sure how much it would be noted in a holster, again I would guess it would. Seems odd none of the Youtubers that I have seen have tried to give a visual of the thickness differences so her you go.
Sorry I forgot to compare the butt of the 2 grips....
Here is a height comparison not a great pic tho.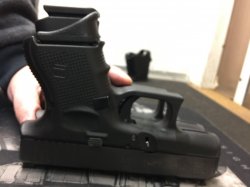 The owner sent me some other pics that might be of interest.
43 vs 43X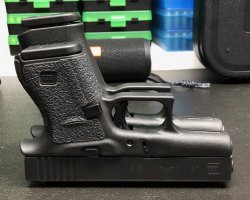 And yes it fits in G43 holsters here is one and it also fit in another kydex but no pic.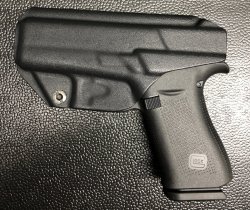 And lastly 43X vs G30s, I know apples to pineapples but the grip length is about the same. The owner carries the 30S often and thought the 43X concealed much easier. So, I heard it from a friend. lol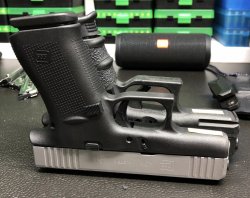 And now for the most important part, shooting it. WOW is all I can say. For me I shot it great and better than my G26. I fired 50 rounds with no flyers which is odd for me. I did shoot it at 10 yards combat style, as fast as I could see the sights. I did seem to be more snappy than the G26 but I felt like I was able to shoot it faster than the G26 the longer grip likely made the difference . I did not go back and forth and not shot timer for what its worth. The 2 other guys I shot with were shocked on how well I shot it. They both shot it very well too.
This G43X has 525 rounds among 3 shooters and no issues. I was also tested with hollow points but not sure how many or what kind.
From what I understand the 43, 43X and 48 slides are interchangeable so the G43 owners might consider the G48 so they can mix and match for all possible combinations.