.475 A&M Magnum
U.S. Military
Yearly Shot Winner
Messages

17,345
Reaction score

21,648
Location
Got the rifles, the optics, the rest and some new ammo to try out. Just need some days without rain. That last one might be too tall an order unfortunately. Nonetheless, for tour perusal:
A variety of Hornady/Lake City "Frontier" 5.56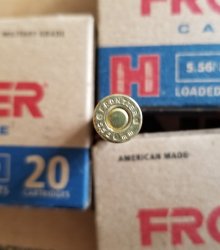 These are apparently a joint effort using Hornady projectiles and power and Lake City brass and assembled at the LC plant. I have 55, 62, 68 and 77gr weights all with BTHP Match bullets. I got a case of the 55gr because my rifle has always shot Hornady's 55gr HP Match load well and they were slightly cheaper besides. All of these rounds were
under
$.40 a round so I really hope they shoot well so I can stack a bunch really deep. The primers are crimped which reloaded hate but I like, better for use in auto loaders. Especially the AR as popped primers are notorious for locking up the FCG.
I have heard mixed things about this ammo so we will see.
The test platform: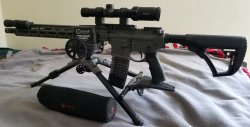 - Daniel Defense M4V7, 16" cold hammer forged, chrome lined barrel in a Gov't profile, 1:7 twist.
Optic is a Kahles K16i 1-6, SM1 mil reticle
Rest is my new Caldwell Turret Precision Rest.
Be testing that thing out also.
This is a sub MOA rifle if I feed it match ammo and do my part. Might have to dip into my 77gr IMI stuff as a control.
Also on the docket: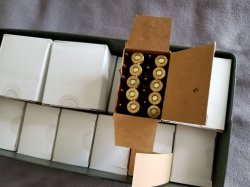 Saltech Swiss new manufacture 150gr 7.62x51. It's not specifically listed as M80 ball though.
This ammo was very reasonably priced at just under $.50 a round. I have read this ammo is somewhat underpowered but accurate. We shall see.
Test platform for the Saltech: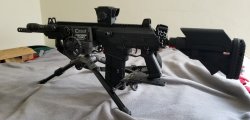 My beloved Galil Ace in 7.62x51. Likewise with a 16" CHF, chrome lined barrel, 1:12 twist. Not sure what you would call the profile other than thinnish, not quite pencil profile. I would call this rifle as reliably sub 2 MOA which I think is quite good for what it is. I have gotten groups right at 1" @ 100 yards with 168gr Match and also, believe it or not, with both American Eagle and Agulia 150gr.
This rifle seems to favor 150gr actually.
With 147gr Malaysian M80 ball surplus it routinely did 2.5 groups.
Not a match rifle by any means but quite good nonetheless. Optic is a DI Optical EG1 RDS with a 1.5 MOA dot. Despite no one wanting to buy it before it's a pretty good sight. I am still wondering if it's worth the expense to change it out for an Eotech.
I may swap in the Kahles for testing purposes.
I'll post targets whenever I have a chance to get to the range. And now that I have all the items conducive to proper accuracy testing I plan on doing this kind of thing fairly regularly. I may even get into gel testing.