Messages

5,059
Reaction score

5,280
Location
The other thread is mainly deer hunting, why muck it up with fur. So calling all preditor hunters! Post em up.
First kill with NV for me. Was using coyote in distress and this gray came running. In the rush of first with NV I completely forgot to hit record, till I squeezed the trigger lol.
Calling the taxidermist in the morning to get the hide taken care of for a wall hanger.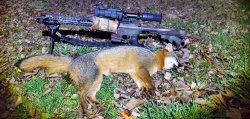 Last edited: