Messages

101
Reaction score

205
Location
Woke up earlish, packed up some stuff and headed for the range (Camden) about 60 miles from me. In my old hometown (maybe future hometown). The plan was to shoot and to visit the daughter and the grandsons. About 10 miles from the village my daughter called, one of the boys has dome kind of flu like symptoms, I was told to stay in phone contact, but not to visit. I dropped off some paperwork for the MIL's taxes and went to the range.
Today was pistol grip rifle day, I shoot
Ruger Precision Rimfire #3
Ruger Precision Rimfire #4
Savage Mk II FV-SR/ MDT SSL-RF chassis
I shot, CCI Clean-22 Hv, Aguila Super Extra (red box) and Federal bulk range pack (blue box), I shot 50 rounds of each of the ammos, through each rifle, for a total of 450 rounds. I also shot 50 rounds of the CCI AR Tactical, for the sighting in of #4.
#3 - shot perfectly, with each of the ammo brands.
#4 - after initial sighting in shots, shot perfectly with each of the ammo brands.
Savage - after the initial shooting session, I bought and install a new buffer tube and AR style adjustable shoulder stock, went back out day and did some shots, varying the LOP, to find a more comfortable shoot position. The Savage shot all of the ammo brands without a single issue.
Here are a couple of targets along with a picture of the range, also a picture of the cardboard backing plate, with the 450 target shots and the 50 sighting shots, thats 500 shots through one backing plate. I marked the original target an staple the others in the same position. I did not think 500 shots through roughly a 2.5" hole was too bad.
The weather was crappy at times, roughly 25*, snow and at times poor visibility , the indoor range was 61*. If the daughter had called earlier, I would have shot at the local range and avoid the drive, but there the range is usually about 5-10* warmer than outdoors, but no wind and no snow. I stopped at the friends, who had stopped at the local deli, to get me Sausage Riggies.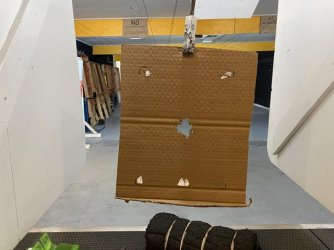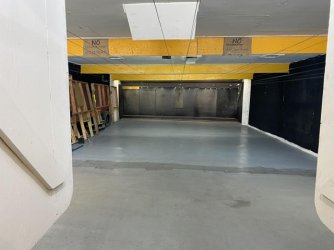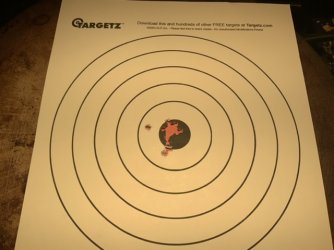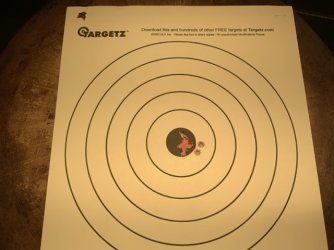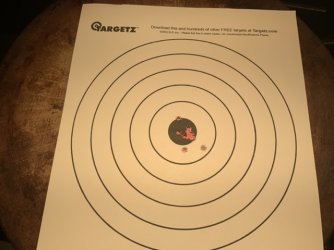 Last edited: