Messages

101
Reaction score

205
Location
Yesterday I ventured to the LGS to pick up my parts order, what came home was my order and a new Ruger PC Carbine and 500 rounds of 9 mm ammo. This is the first centerfired firearm I've ever bought, scads of 22LR based rifles, no pistols, and the first one I've fired in about 40 yrs.
The Ruger PC Carbine (PCC), in an over simplified way, is a 9 mm version of the takedown Ruger 10/22. I live in NYS, so no pistol grip, no folding or collapsable stock, no threaded barrel, as we are dealing with a semi-auto, also no mags over 10 rounds, so a basic rifle. It is switchable to use either Ruger mags or Glock mags, weighs roughly 7# with a 3.5# trigger pull. It has a picatinney rail on the receiver and comes with iron sights, mounted on the barrel.
I took it to the range this morning fighting snow, cold and a blowing wind. I hung a target at 50 feet at the outdoor range, at 9:08 I shot, 30 round, using the iron sights into a 4" circle. All in all I was happy. Obviously more recoil than a 22LR, but not too much for multiple surgically repaired shoulder.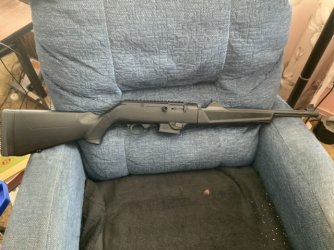 Last edited: