.450/400 Nitro Ex
U.S. Military
Messages

13,093
Reaction score

11,996
Location
So a little size comparison between the old dump pouch (Blue Force Gear) mounted on the outside of an Esstac Kywi pouch and the new dump pouch (Flatline fiber co / Kinetic Consulting) mounted behind and below an Esstac Kywi pouch.
Here is the BFG as you can see it's the same width and height as the rifle pouch. But it adds a good bit of width because well its on the outside
Here they are next to eachother, as you can see the BFG is significantly longer than the Flatline, but bother are roughly the same width. The BFG is a bit slimmer than the Flatline but that doesn't help since it's on the outside of the mag pouch. And in reality the Flatline is no wider than a 5.56 mag pouch so it's not large by any means when all tucked away.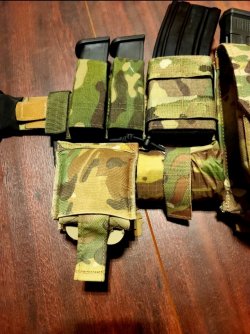 And lastly here they both are opened up, and the flatline is actually significantly larger and more usable without even getting into the few added editions on the inside of the dump pouch itself