Messages

14
Reaction score

20
Location
Wannabe MyPillow competitor David Hogg forgot to trademark his company name
Follow Us
Search Search Keyword:
Sign Up For Our Daily Newsletters
Breaking News Alerts Enter your email address:
Manage Newsletters
Front Page Podcast
Recommended

'Situation' on Mexican border worsens as politicians fight over labeling migrant surge a 'crisis'

Quiz: Only a true baby boomer can beat this test

Trump's judicial appointees give Republicans hope to revoke Biden's flood of executive orders
Quiz: Who are these movie villains?

'Dispiriting': Track star's dream dashed by transgender rules
Commentary

Charles Hurt
Alexi McCammond cancelled: Teen Vogue editor the latest mob lynching

Scott Walker
Passing H.R. 1, the 'Crooked Politician's Act'

Michael McKenna
To achieve climate goals, Biden needs long-term plan for threat of China
View all
Question of the Day
Now that Trump has recommended getting the COVID-19 vaccine, will you?
Question of the Day
Yes
No
Not sure
View results
Story TOpics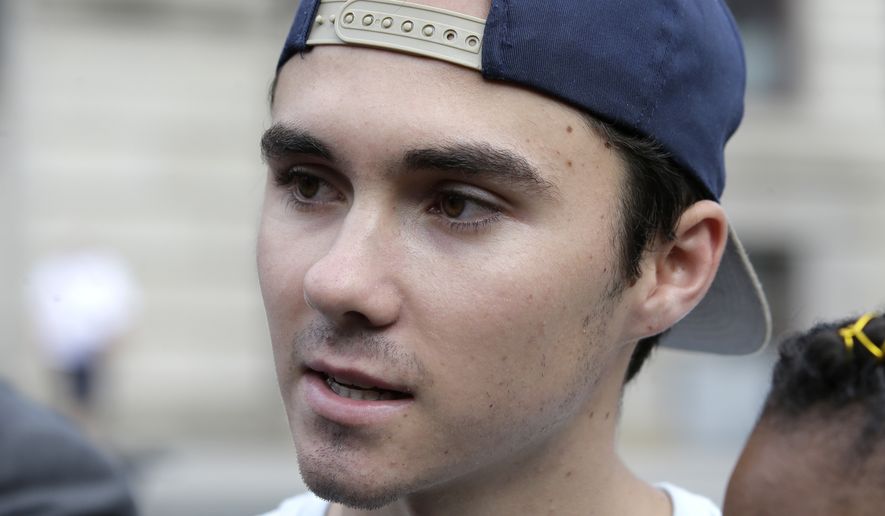 David Hogg, a survivor of the school shooting at Marjory Stoneman Douglas High School, in Parkland, Florida, speaks with reporters before walking in a planned 50-mile march, Thursday, Aug. 23, 2018, in Worcester, Mass. The march, held to call for ...
more >
Print
By
Victor Morton
- The Washington Times - Tuesday, March 16, 2021
Progressive
-pillow entrepreneur
David Hogg
slept through the first step of creating a business.
Good Pillow got off to a nightmare start this week, as multiple news outlets reported that the gun control activist apparently didn't trademark his company's name.
Now the moniker "Good Pillow" belongs to someone who is neither Mr.
Hogg
nor his announced business partner, tech entrepreneur William LeGate.
TOP STORIES
Biden's 'President Harris' gaffe lights up social media; mistake an ongoing issue since campaign
Kelly Loeffler warns if GOP can't counter Stacey Abrams, it won't matter who runs
'I'm still here': Biden accuser Tara Reade resurfaces as Cuomo scandal ignites #MeToo moment
"According to the trademark application, 'Good pillow' was being registered for a 'custom-built pillow,' to use the mark in commerce or in connection with identified goods and services," the website Meaww reported.
"The application is now waiting to be assigned to an examining attorney approximately three months after the filing date, which will take place in May 2021. The image registered with the application does not match the logo on Hogg's and LeGate's Good Pillow website. At the time of reporting, no other applications for the name have been filed under either Hogg's or LeGate's name," Meaww wrote.
Mr.
Hogg
and Mr. LeGate announced their plans to start Good Pillow in early February, specifically to drive out of business conservative entrepreneur Mike Lindell and his MyPillow brand of bedware.
"[We] are going to prove that progressives can make a better pillow, run a better business and help make the world a better place while doing it," Mr.
Hogg
wrote at the time.
The pair haven't yet produced any pillows or bedware.