Messages

1,918
Reaction score

2,470
Location
Picked up some new guns this summer - one of them is a
Taurus TX22
(Glock 19-sized .22). I've been looking to buy this for a while - almost everyone says it's a damn good .22 pistol. After today I'm in agreement.
The only other .22 pistol I have to compare it to is the
S&W SW22 Victory
- but at 36 oz the Victory is more than double the weight of the TX22 at 17.3 oz. If you're going for absolute precision (and almost no recoil to speak of) the Victory might be what you want, but the Taurus is $100 cheaper. I found the TX22's grip to be near perfect for me - a slight undercut for the middle finger and good texturing. My model has a safety but it's out of the way so I don't even need to mess with it. (though you could 'ride the safety' like with a 1911)
The only mod I've done (so far) is to replace the front sight with a Tandemkross fiber optic front sight. From the factory it has a nice trigger; average of five pulls gives 3 lbs 4 oz. It doesn't feel that light, there is a wall but it's easy to press/pull through.
Brought some various .22 ammo today to shoot it for the first time, then decided to check accuracy.
50 rounds of CCI MiniMag Copper Plated Round Nose Target 40 gr
49 rounds of Remington Golden Bullets 36 gr - the 35th round had a Failure to Fire. I rechambered to try again and it still failed to fire. I'm guessing bad round as it is not the most reliable and I just had this ammo sitting in the basement outside of an ammo can.

30 rounds of American Eagle High Velocity 40 gr
Accuracy check was done at around .. 20 feet maybe? Still haven't thrown a new tape measure in my range bag after the last one fell apart.. I was going to be all scientific and clean the barrel between brands but forgot the bore snake. Oh well. I was also standing with no support (except leaning against a pillar) Full disclosure: I don't claim to be an expert shooter, and it also started downpouring right as I started the accuracy test... (see 2nd pic)
I think I found what my TX22 likes -
CCI Standard Velocity, Lead, 1070 fps
(I thought I ran 50 rounds of that through also but I didn't write it down...)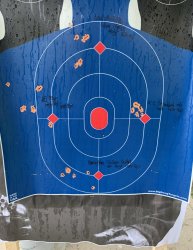 I'm glad it likes that ammo, I have... quite a lot of it. (I also have a lot of Remington Golden Bullets unfortunately...)
I may adjust windage a bit to the right to get it more centered - the front sight was covering the red diamond so next time I'll put the target at the top edge of the front sight. Sounds like elevation adjustment with the TX22 is questionable but I'll check for next time.