Messages

6
Reaction score

6
Location
THE
TACTI
GAL
TRAINING SERIES
®

This exclusive

Women's Series

provides progressive firearms training that leads the student from core fundamentals through advanced tactics with a stair-stepped approach to learning.
​
In this dynamic series of courses students have the opportunity to learn about marksmanship, low light techniques, shooting on the move and even self-defense in the home with search and room clearing, as well as, discussions on use of force and castle doctrine.
Classes are being held at the brand new State-of-the-Art Range:
RTSP
in Union, New Jersey and open to all women (with or without a NY pistol permit) as low cost firearms rental packages are available. Designed for women of all experience levels, it offers a supportive environment taught by a female instructor who understands the challenges and concerns of being a fellow female shooter. It's also a great way for ladies to get a jump start on training while they may be in process of getting their pistol permit or for those who have not yet applied but are interested in learning more, but are unable to train in NY.
For those that may have questions or would like further information please contact me directly at
bree@tactigalinc.com
. Happy to assist!
www.tactigalnyc.com
​
_______________________________​
UPCOMING CLASSES:
Fundamentals & Foundations - 10/5
Presentation & Marksmanship - 10/19
Low Light Essentials - 11/9
Getting Off The X - 11/23
Force on Force Home Defense - 12/7
​
______________________________​
Register with RTSP Training Department (973) 434-7600 (ext 111) or online at www.rtsponline.com
2438 US HWY 22 East
Union, NJ 07083

Flyer Attached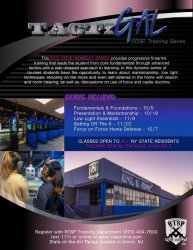 ​