Messages

512
Reaction score

757
Location
I got a sporterized MAS 36 from Kev74 for a great price and now it's time to return the gal back to her former glory.
I've always been opposed to sporterization of classic rifles.
This is the before:
This is the current:
Keep in mind I still haven't received the mid band swivel mount/screw and front end cap.
Once I receive these items and I'm able to do a final fit test I will be sanding down the forend (specifically around the mid band to where the chipping is) and handguard. Then I'll be resealing with boiled linseed oil.
I will also be taking a steel wool brush to the new-old metal items like the handguard and mid bands.
The final thing I will be doing is getting threading kit/annular cutting bit from CNC Warrior. The goal is to attach a muzzle device to gain some length back from what was chopped off the barrel during sporterization. From the looks of it, they took off approximately 2-3 inches.
I'd be looking into a muzzle brake similar to below image or a M1A style flash hider; something that has roughly the same length to what was chopped off.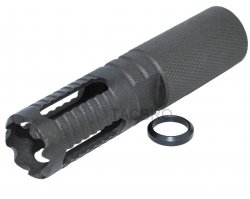 Last edited: