.450/400 Nitro Ex
U.S. Military
Messages

11,550
Reaction score

9,691
Location
This will be my initial review of the Modlite PLHv2 18650 handheld, reasons why I wanted to upgrade (and semi comparison to) from my Streamlight Protac 2L-X.
Like many of my threads it will probably be long winded and not apply to or be useful to anyone on here, and maybe it will for someone, anyways enjoy?
To start, I belive everyone should have a handheld flashlight with them if leaving their home, life happens and we can always plan our day around sun light or other lights, might as well have our own light just incase.
I originally started off with a Streamlight Protac 2L-X, mainly due to cost and size, I felt originally the Protact offered good output in a reasonably small package and priced nicely compared to other market offerings (surefire for example)
Protac 2L-X specs:
Battery - 18650 (rechargeable model) or 2 CR123
Run time - 3.25 hours (High) / 30 hours (Low)
Lumens - 500 (High) / ?? (Low)
Candela - 6,800 (High) ?? (Low)
Length - 5.14in (13.06cm)
Weight - 4.40oz
All this together offers a pretty nice EDC handheld light, the only real issues I had with the light is 1) could not use the Thyrm Switchback (more on this later) and 2) the low beam and strob functions, but the strob can be locked out.
I finally got a chance to try out my handheld at a low light workshop offered by
@OnSight Firearms Training
. This gave me a good look into what I liked about the Protac and what I actually disliked about it.
Pros:
1) Output*, compared to many of the other lights at the class the output was pretty nice
2) size, it was not to small to manipulate but not to large to well carry daily (I had been carrying it for some time prior to the workshop)
3) controls, simple clicky tailcap
4) run time
5) cost (like $70ish?)
6) battery options (both One 18650 or Two CR123)
Cons:
1) size, not large enough to utilize Thyrm Switchback
2) Deployment, the protac uses a standard clip (can be worn bezel up or down I chose down) and sits nice and deep in my front left pocket, which made grabbing it and deploying it a bit cumbersome and slow, this could be improved some with more practice
3) multiple output options. The Protac has High/Low/Strob settings, and at times I noticed when I wanted momentary high I would sometimes get low output or even strob. I know I can lock the Strob option out but never did. Not a fan of multi outputs for what i am using this light for
I can't remember what handheld Ben himself was using but it was one of two that made me realize 2 things I want a light with a Switchback (I wanted one prior for sure but seeing it in action just validated my beliefs that it is an asset) and second while the protact 500L 6,800C isn't bad and is usable MORE is better.
Rachel had the other handheld, the Modlite PLHv2 (I believe the 18650 but may have been the 18350). Previously I have seen people starting to carry both Modlite offerings as handhelds and I even thought man thats a lot of output maybe to much. But after standing at the line next to Rachel as she utilized the PLHv2 I realized no no it was not "to much" light it was actually what I wanted in a handheld. So after that day I started saving my pennies.
So finally here we are I picked up a Modlite and have been carrying it for about 3 weeks, I have moved my carry position to my back left pocket. It took me a min to actually order the light as I was worried it may be to large to carry, and was originally going to order the smaller 18350 version but after looking at the numbers realized it's only marginally larger than the Protact I was already carrying.
PLHv2 specs:
Battery - 18650 only (rechargeable)
Run time - 75 minutes
Lumens - 1,350
Candela - 54,000
Length - 5.5inch (14cm)
Weight - ?
Pros:
1) output. Speaks for itself
2) size, it's actually not much larger than the protac
3) the ability to use the Thyrm Switchback 2.0 (and also similarly the Raven Light clip)
4) Controls, it's simple just a clicky tailcap, light pressure is momentary on and pressing it all the way in is constant on
5) only one output mode,
Cons:
1) Cost, this will most likely be the biggest detractor for most people (just under $300)
2) run time, 75 min isn't the best but using rechargeable 18350 as long as you stay on top of rotating them out and keeping them charged its not a big issue
3) size, some may find it a but large (the 18350 version may appeal to them)
4) doesn't come with a clip.
Now some comparison photos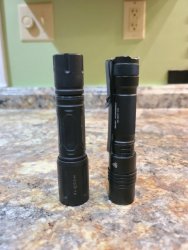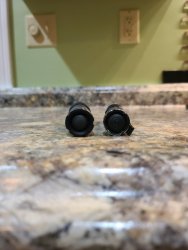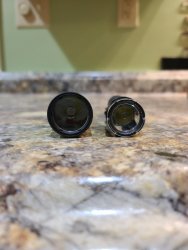 Now if anyone is still with me, you probably noticed I mentioned the Thyrm Switchback more than a few times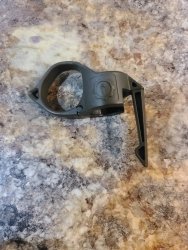 Now this is the real game changer and makes using a handheld much much more practical, especially if there is a chance you may need to use a firearm. The Switchback holds the light secure in my pocket but also do to the finger loop allows me to grab my light when I need it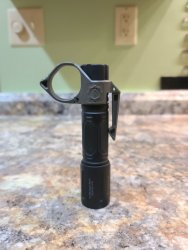 In conclusion I honestly believe the Modlite is one of if not the best EDC handheld on the market currently, there are others from Surefire and Streamlight (and other companies) that are great options as well, I think the biggest thing for me now and I think others should consider is the Thyrm Switchback (they have a list of what lights work with their Switchbacks).
If the cost isn't a issue I would recommend the modlite all day, if the size is an issue I'd recommend looking at the 18350 body
Last edited: