Decided to add a light to the ar pistol and while researching which one I want ran across this. Sightmark lopro mini. This is the new 2nd generation 300 lumen/ green laser combo. 1 moa shrouded turret addjustments in a new aluminum housing. Light has high, low, and strobe settings. It's built like a tank, feels very robust. ( Good on you sightmark for upping your game )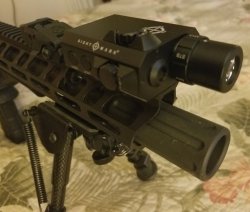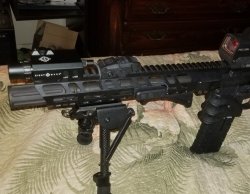 Anyhow, this is pretty much the hd gun so I didn't need a 1000 lumen light for lighting up outdoors- it's plenty bright inside. I actually hit the mirror and am still seeing spots.
Not sure how I want to set it up yet, so I'll ask your opinions. I can set up the tape switch for high or low light alone, laser alone, or both on at same time.
I have an always on holosun dot that will be zeroed at 50 yards. My house is pretty much always lit up a bit, never dark enough that I can't see.
My red dot reticle is set on auto brightness adjust which stays fairly dim in the dimly lit house, so I'm thinking to set up light on high setting to blind and distract, while having the laser come on at same time. The benefit to this is with light flashing on opposite side of room, my red dot will possibly get washed out because it's not getting bright direct light on the sensor. The laser dot is easily seen with the light on.
I'm also thinking of zeroing laser at 10 or 20 yards as opposed to the dot at 50.
Thoughts?