Messages

1,911
Reaction score

4,421
Location
I started one of these up back a few years ago and after the dumpster fire of 2020, I felt it was time to restart a new thread for this year.
Call it I have too much stuff, or maybe you can really use some Karma. Doesn't matter why...
Offer up an item for free, including shipping.
Claim an item, you offer up something to Pay It Forward in a timely manner.
Please handle shipping details and questions in PM or e-mail.
Usual marketplace unconditional "I'll take it" should get the item.
Keep it simple, don't ask for stuff, and don't ask for only part of the item offered.
This is a good way to get unwanted stuff into hands that might use it, and to pick up something you yourself might use. No need to make a Chinese fire drill out of it. Have fun & PAY IT FORWARD!
To kick it off, I am offering a full sized Abe Lincoln riding a bear flag. Nevermind his trigger control. Its Abe Fucking Lincoln.
Yours for the asking, just Pay It Forward with something from your stash!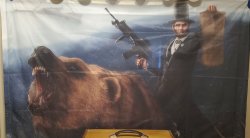 same one as it was purchased from here:
Dress up your space with a high quality wall flag. This 36"x60" wall flag is made of 100% polyester knit; equipped with grommets for an authentic look and feel. The flag is a one sided semitransparent print perfect for indoor applications.• Indoor Use Is Suggested to Maximize the Life of the Flag.
www.aafnation.com
Last edited: