Messages

113
Reaction score

160
Location
Why we choose to use High Threat Concealment.
I have used many of holsters over the years, fabric drop leg holsters back in 2007; Black Hawk paddle/Serpa 2009, G-code 2011, Safariland, RDR, T-rex, raven, I mean the list goes on. I have a dresser drawer filled with holsters and accessories. Now I take them to the range with me for when someone shows up with a leather holster or a Serpa (since I do not allow either of those on my range, for obvious safety reasons).
The problem I always ran into with these holsters in the past, is that they wouldn't handle the beating we put them through. Granted as the time went on and the industry began to flood with GWOT companies, technology began to develop better quality rigs. I'm not knocking any of the above-mentioned holsters for a majority still make very high-quality products, they just aren't for me. So, the issue I was having was overseas my kydex holsters would lose its rigidity or even so much as melt. And when I would confront the manufacturer about the holster their response was, "why was it in heat like that?". I usually chuckled and went back to the internet to begin my search again for the next best holster. Then I was issued High Threat Concealment, my first thought was great, another product I'm going to complain about…. And I did. The screws would come loose, I had to trim some of the material and the belt started to fall apart. You know usual wear and tear.
Now saying we beat our equipment would be an understatement, 120+ degrees, leaving kits in trucks, jumping in and out of vehicle constantly, throwing them on and off, getting loaded with moon dust. We literally trashed these things.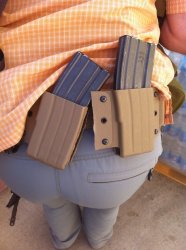 I was on a forum like this one a few years back after using my HTC rig for a few weeks and began talking politely of the quality of these HTC products. The CEO Casey found my OCONUS cell phone number and called me. Apparently, he still had connections and knew some of the same people I worked with. I get a "hey, why are you talking shit about my product?" I laughed and explained my quarrels with him. Casey listened the entire time and took to heart the information I was giving him. He then informed me the kit we had was some of the first-generation products, they have newer designs and all these issues have been resolved with the new rigs. He sent us Loctite for the screws, new 5 stitched belts and updated holsters. He didn't just try to push it off, he tried to fix the "problems" that we were having. Which to me said a lot about the business, kind of weird that he found my work cell and stalked my Facebook but I'm glad he did.
I have been using HTC for about 4 years now and Bull Creek one of their Training affiliates. My favorite features are the versatility and the retention of the products. I like getting the audible click, so I know my gear has securely locked in place and isn't going to move or fall out. Also the fact that the CEO is readily available to talk or even answer quality related questions is unreal to me. He cares about the customer more than he probably cares for himself. Which is why I affiliate myself and my business with High Threat Concealment.
So back to the product, after Casey fixed the issues we were having things were fine, no problems except for user error. They with stood the heat, dirt and whatever we threw at them, I know of some rigs that are still in use an have been for 3+ years overseas.
The reason we chose use to use HTCs Low Profile System was for its versatility and concealability. When I was using the LPS overseas I traveled around in a Low-profile atmosphere, so I wanted to have as sleek of an appearance as possible but still have the tools on me needed to protect myself and others with me. In this photo Im wearing the rig, 4 pistol mags, 2 rifle, medkit, radio, pistol, CAT-T

About the product.
These holsters are not KYDEX
!
They are made from a material called Boltaron, it is proprietary, fire retardant, thermoplastic alloy that offers strong physical characteristics; making it a great material to fabricate parts that endure high impact, abrasion, harsh chemicals and high temperatures. Boltaron has an acrylic composite that makes the material scratch resistant and gives it a nice sheen. The holsters are form molded after the Boltaron has been heated hotter than 500*. Whereas if you have a kydex holster, just blast it with a hair dryer or put it in the oven. You can't do that with HTC products.
To put this in perspective, I have let my full rig sit in a vehicle during an Iraq summer for a full day, took it out of the vehicle threw it under the tires and drove over it. A few of the plastic belt clips broke, but the holsters retained their form.
Their holsters are also formed with actual handguns, no blue guns or casts are used in the forming process, so this way you get a tighter fitting retention out of your holster.
Each holster contains a custom tensioner. This allows the user to adjust the tension of the pistol based on his/ her individual preference.
The belts are setup as a quick attach belt system to secure your rig. You have an inner belt that holds your pants and the outer belt retains your gear without the need for belt keepers, so you have to go just throw your gear on and it attaches to your pants belt by Velcro. The gear belt also utilizes a quick- release AustriAlpin's Cobra® buckle allowing for easy removal and reattachment.
Each outer belt is made of 1.75" Mil-Spec resin-coated Type 13 webbing lined with quality Velcro® hook and is paired with a black underbelt of the same 1.75" webbing surfaced with Velcro® loop. These are all 5-tier stitched as well, making the belt more rigid and helps prevent fraying.
There is a lot of time, heart and sweat that has gone into HTC making quality products. This article is just about their LPS system I use, I will get into more detail about the different products they offer in other blog posts.
Thanks for reading.
Visit their website here
Discount code- bcs2018