Messages

2,674
Reaction score

1,993
Location
For sale is a Schrade Old Timer, Special Edition folding knife, old stock but being sold as new in plastic package. This is probably among, in general, the last knives Schrade made in the USA. The blade is approximately 3.25" long and the handle is about 3.75" long. The blade is marked, by what I believe is laser etching, "Special Edition 1 of 1000. The base of the blade is stamped with: " U.S.A. 1940T. I do not know if that refers to the model number or to the type of steel. I have never seen right side of blade as the knife has never been out of the box. The bolsters appear to be nickel and are slightly tarnished.
Asking $15.00.
If shipped, I will charge $15.00 flat rate shipping for U.S. Postal Service (USPS), medium sized, flat rate Priority Mail box, the additional amount, above the USPS fee of $13.45, is for packing material and handling.
For sale only in the lower 48 states of the USA with the following exceptions: no sales or shipping to NYC, Chicago, Washington DC, California, military addresses, or correctional facilities.
Buyer must supply me with copy of current valid government issued ID.
Your purchase of this tem is your affirmation that this knife is legal for you to have shipped and to receive and possess at the address to which shipped. Furthermore, your purchase affirms you agree to and will abide by all of the above terms and conditions of the sale including that you are not ineligible to legally purchase this as per the above terms and conditions.
This offer is made as per availability.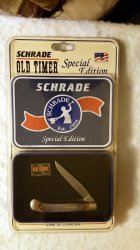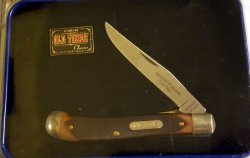 All the best,
Glenn B
Last edited: