Purchased this drop in trigger from Brownells about 18 months ago for my 3 Gun rifle in .223 Wylde with 1:8 twist rate. AA breeze to install and I have run it in approximately 8 matches without so much as one FTF using brass case ammo. I estimate just north of 1,000 rounds through it as I don't practice as much as I should. Has a nice clean break at 3.5 to 4 pounds according to manufacturer. I don't have a gauge so I can't confirm.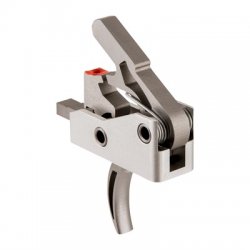 Last weekend I was working on finding the optimal weight round for this set up and I broke out some Wolf 62 grain steel case that I had on hand. 50% of the rounds would not fire with the Saber trigger despite having dented the primers pretty well. I was shooting with
@squib
and he loaded them in his rifle and all fired without fail using a Timney 4lb trigger.
This past Saturday I took the rifle to the range to try a couple other rounds. Brass good, steel no good. I then tried the CMMG conversion to 22LR in the rifle. Greater than 50% of the CCI Stingers wouldn't fire and had noticeable impacts on rim of cartridges. I put the kit in another rifle with a milspec trigger set and it fired everything including the FTFs from earlier.
As a result I would not recommend the Saber trigger especially if there is any chance you will use steel case ammo. The fact that the 22s wouldn't fire sealed the deal for me. The Saber is already uninstalled and heading back to Brownell's. Positive outcome is Brownells has a "Guaranteed Forever" policy so I'll be getting a refund.
I'm definitely going to spend a few extra dollars for a better trigger. Heavily leaning toward the Velocity
Steel Cased AR Trigger with a 4lb pull. Velocity was recommended by the guys at Apex Tactical. The Steel case drop in trigger has a 4lb pull vs the 3.0lb to 4.5lb pull of the standard trigger. Anyone with experience please chime in.
Steel-Cased AR Trigger (For Steel Case Ammo) - Velocity Triggers