Just looking to clear some stuff out $250 cash takes everything pictured. Located in Andes 13731.And listen everyone you all know it wasn't that long ago when that 22 ammo was worth more than the asking price of everything
(Seperate from everything here I also have a jet drill press like new
. for $450. Model J-2530)
Detailed listing
Old clay thrower but works!
2 boxes of clays 1 open not much left 1 full.
New Deluxe Universal gun cleaning kit
New Birchwood casey muzzleloader Barrel and stock finishing kit.
2 45 brushes for cleaning
Empty pistol soft case
1" 42mm rings used
Unknown wood forend
Unknown remington branded stock
Misc holster
Empty ammo can
Rimfire steel reset target
3 sealed packs of 22lr ammo 1375 total rounds
Portable wood gun rack for a table. Fits quite a few guns very easy to assemble.
Jennings breeze bow w/ arrows works great 55#
Storm cat 63cc 900 max watt portable generator. Never used bought it years ago from Harbor freight.
Set of car Rhino ramps
12x12 Ozark trail canopy.
Display case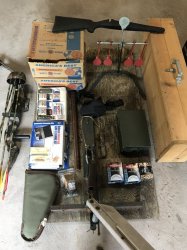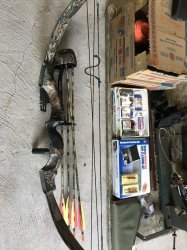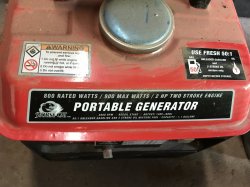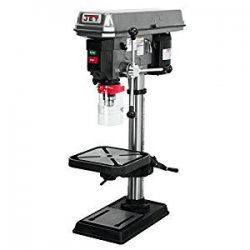 Last edited: