Messages

113
Reaction score

160
Location
About
FRANK
Franks passion for training and teaching others has manifested itself in the creation of Bull Creek Strategic. During his 8 years of service to his country as an Army Paratrooper and Reconnaissance Team Leader, Frank noticed a need for local and expert firearms training for citizens on the Homefront. After leaving the Army, Frank has continued to work as a Security Contractor for various Government Agencies on high risk protective details in the Middle East. Frank has brought this extensive background together to create a training and advising company which would be the first of it's kind in New York. It would draw on elements from his combat experience in Military/DoS Personal Security Detail Operations (PSD), Principle Recovery and Extraction (PRE), Tactical Combat Casualty Care (TCCC), Close Quarters Combat (CQB), and Reconnaissance Surveillance and Target Acquisition (RSTA). Through Bull Creek Strategic Franks training programs and classes deliver the skills necessary for the local Law Enforcement Officer or armed private citizen to overcome the most dire of circumstances.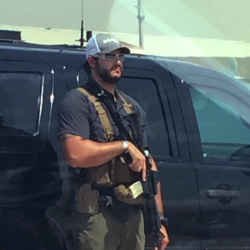 DEREK
Derek has been a lifelong student of human conflict and the pursuit of martial excellence. As a Marine combat veteran, he identified many shortfalls in military training particularly in conventional force units. He proactively began developing his own training program to enhance the effectiveness and combat efficiency of the Marines under his leadership and guidance. This martial education he has further adapted for the armed citizen. Derek's related training background and operational experience includes Patrol, Small Unit Tactics (SUT), Combat Trauma Care (TCCC), Military PSD Operations, Close Quarters Combat (CQB), Designated Marksman (DM), Close Target Reconnaissance, Combat Tracking, and Deadly Physical Force. After 8 years and hundreds of combat missions, Derek moved to civil service with the NYS Department of Corrections while continuing to train civilians and Law Enforcement in Small Arms employment and Tactics through private companies. Derek has evolved his program specifically to train qualified citizens to effectively respond when faced with increasingly common and lethal threats as they present themselves through avoidance, deterrence, or superior martial skills when all other options have been exhausted. This training he offers at Bull Creek Strategic.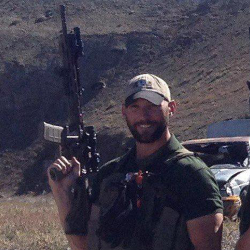 YANTO
As an officer in the Army and a firearms instructor in both the military and the private sector, Travis has been developing and executing training plans for a vast array of programs for the past decade, while also deploying and maintaining operational readiness for the various entities he was employed by.
Through several mentors, courses and a focus on honing his own individual skillset, Travis continues to strive to seek out best practices, stay current and most importantly, remain relevant, in hopes to pass on his knowledge to those who seek to better themselves.
He has accrued hundreds of hours instructing novice shooters, civilians, US military, law enforcement, private contractors, and foreign military, and even his mother, which was his hardest challenge to date. Learning the most important lesson an instructor can, which is the importance of adaptability and knowing one's audience, realizing we are ALL truly students at the end of the day.
Travis still deploys on a rotational basis to high threat areas, he currently fills the role of combat medic, and operates in both high and low profile capacities (which is why his beard is so cool).