Ok who has them, I know some of you do. I'd like to get back into collecting them someday if the gun collection ever stops soaking up my money.
I sold off a couple, here's what I have left.
1. Piranha bodyguard. This is actually a great light duty knife. Very light and thin, opens very fast, good steel.
2. Frank B. Staghorn Italian stiletto. Just because you need to have a quality made stiletto.
3. Akc swinguard Italian stiletto. I like swingaurds, I need a couple more.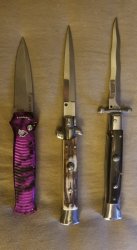 Next one will probably be a Benchmade infidel for my first quality otf knife when I feel like tossing a spare $400 at it. I've had the cheap knockoffs before.