Messages

512
Reaction score

757
Location
I was a little slow getting started as the auto drum wouldn't keep steady at 42.0 gr on a powder drop so I had to do about 10 drops, there ultimately was a variance of 0.2 to 0.6 but not enough to push even half way to the next load fps. I used Federal 210 large rifle primers for the reloads.
A couple of times I had to end up using the bullet puller because the auto drum didn't drop powder because the beaded wire slipped and didn't reset the drum. It ended up being a good lesson on how to pull bullets.
The progressive press was easy to get the hang of, next I need to figure out how to get the casing feeder to work with casings this large if it is possible.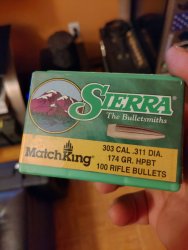 Last edited: