More cabin work putting in new hardwood (Ipe) floor while it's still relatively warm out so jumped off other project for a bit. Problem with this one was existing floor was way out of level so need to install new subfloor first. Floor was almost 3" out over about about 13'... had to actually come down on the high spot or wouldn't have clearance to open front door so was bit of a challenge leveling it out...
Scribing 2x4s and gluing/screwing to existing subfloor. Lot of work but got it really close to being dead flat! Hopefully will get new 3/4" T&G plywood subfloor down tomorrow and start laying the Ipe out on Wednesday...
Scribing 2x4s...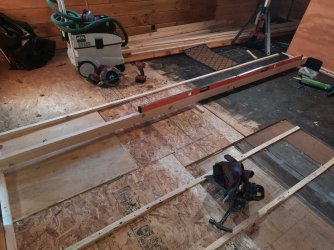 Glued and screwed to existing subfloor...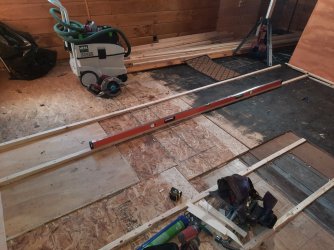 Just about ready for 3/4" T&G tomorrow...