.475 A&M Magnum
U.S. Military
Yearly Shot Winner
Messages

17,329
Reaction score

21,606
Location
I present the following high end optics for your perusal: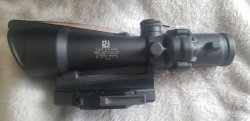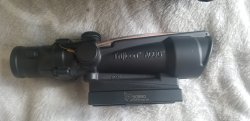 Trijicon TA11E ACOG, 3.5x 35mm objective. Red Chrveron BDC reticle calibrated for 7.62x51 M80 ball. I can confirm the BDC is also bang on for 77gr 5.56 as well. It is mounted on the excellent Bobro QD mount and can verify that it indeed has excellent return to zero capability. Included is the original mount it shipped with.
This is a high end optic with a high end mount
I am asking $800.00 for it.
SOLD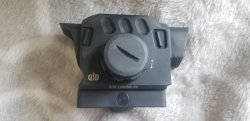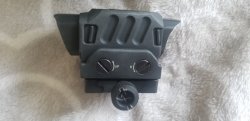 DI Optical EG-1 Prismatic Red Dot.
An very nice Red Dot with a 30mm occular/objective FOV. No tint at all, crystal clear glass with a very precise 1.5 MOA dot.
DI Optics is a South Korean manufacturer that is known for supplying our and other NATO nations with gargantuan reflex sights for use on machine guns and other crew served weapons.
This optic takes a CR2032 battery.
I have used this optic for a lot of our 25 yard offhand rifle matches.
I am asking $250 for it.
I am selling both because I need the money.
Last edited: