.577 Tyrannosaur.
U.S. Military
Monthly Shot Winner
Messages

20,146
Reaction score

27,464
Location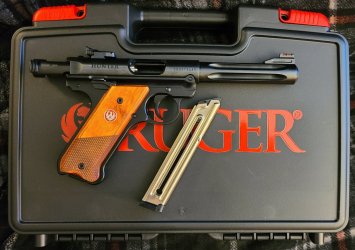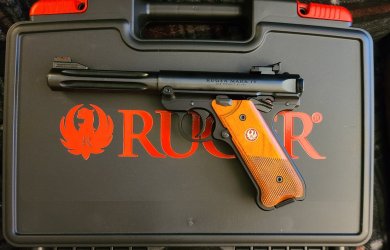 Ruger Mk IV hunter
blued
version 'cos I am not particularly fond of shiny guns.
I had been planning on getting the Target model but when I saw this blued Hunter model in my LGS I opted for it instead. It has the fiber optic front sight which is nice and the fluted barrel and aluminum frame is a bit lighter which is also a plus for me.
I like the standard style frame as opposed to the 22/45 frame which I know is lighter still, especially in the 45 target Lite version.
The standard style is more distinctive IMO.
Changes/upgrades-
Gonna remove the offside safety lever which rests somewhat uncomfortably against my trigger finger when disengaged.
Probably gonna get the Volquartsen trigger kit as I am not very impressed by the factory trigger and I will eventually get a Lobos lo-pro red dot mount for when I am ready to go that route.
It would also be really nice if I could find someone offering a checkering service for the front and rear straps.
All that said, my initial impressions as is?
"Is very nice! I lika very much!"
Last edited: