.475 A&M Magnum
U.S. Military
Yearly Shot Winner
Messages

17,270
Reaction score

21,470
Location
The "Commie Culler":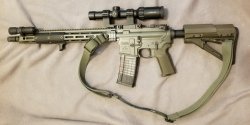 Now sporting Magpul Furniture and with rail covers and handstop from Slate Black Industries.
The purpose of swapping the Magpul furniture onto the DD from the NYGF carbine was to allow me to install the LaRue RISR cheek rest-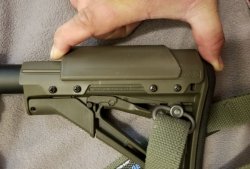 The cheek pad is spring loaded to allow the charging handle to come back without having to move the stock rearward.
I wanted a cheek rest so I can get a proper, elevated cheek weld to get me behind the scope in a faster, more repeatable fashion.
I had found it a little difficult to hover my face up off the stock in more of a jaw weld. I like to really get lined up firmly on a rifle stock and I find that this cheek riser gives me a solid weld at the perfect height so I am very happy with it. Cheek risers on AR15s are kind of dicey when it comes to interfering with the charging handle and the LaRue product avoids that issue. Got it on sale on their website for $20, can't go wrong at that price.
I also replaced the Magpul MOE with the K2 grip which is more vertical which I find to be better in supported positions. So far I am not really liking the hump on the back but I will give it a chance while I get used to it.
The handstop and cover kit is from a company that the guys from the 9 Hole Reviews channel started up. They are inexpensive, with the handstop and 3 covers kit + an additional 3 covers costing me just under $50 shipped. And they shipped the same freaking day I placed the order. I am also happy with the covers/handstop. Plenty grippy and the handstop is the perfect size and shape.
Future updates? I would like to add a JP Industries Captured Silent Spring buffer spring setup and I would like to replace the non QD scope mount with a QD one. The Scalarworks Leap mount weighs almost exactly the same as the one currently installed with both being right around 5oz. I am also considering replacing the Daniel Defense gov't profile barrel with their light weight version to offset some of the additional mass I have added to the rifle. Even so despite all the extras it is still fairly light and handy.
The rifle remains compelling as a lightweight precision carbine that with 77gr OTM ammo should have the chops to decisively engage targets out to 500 meters. When I have stabilized my financial situation after numerous job changes in the past year I would like to run it in a carbine class to see just how viable at close range it would be.
I can already see it is a disadvantage compared to a simpler, lighter red dot setup.
Last edited: