So since
@NYGuns
was nice enough to give me a forum section figured I'd start off with his new shed.
Not much to see at the moment spent the last couple of days getting the base ready for gravel. Had to dig down a little more than expected and go up another level due to contour of ground. The roots were a PITA lol. Everything is glued with PL construction adhesive and nailed with 6" 60D timber tie nails. I set it on thin bed of S-type mortar not so much for strength but more to fill any voids. Square to about 1/16" over 8' and dead level. Gravel coming tomorrow.
The three stakes to right will be footers for 3 4x4 posts that will support a shed style roof coming off main shed to cover a wood stack. Hoping to get 3 chords of wood maybe another face chord underneath.
Shed will be 10' x 12' with 8' tall walls. Main doors will be 6-1/2' wide by nearly 7' tall to accommodate a new side-by-side all terrain vehicle (which is awesome btw). Going to build my own roof trusses in such a way that leaves alot of headroom for a loft for additional storage.
More to follow...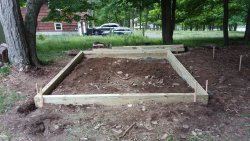 Last edited: