.475 A&M Magnum
U.S. Military
Yearly Shot Winner
Messages

17,332
Reaction score

21,613
Location
So, some of the threads lately have got my daydreaming about the SCR.
Say you were gonna do a fuddly AR15 build ala:

(I actually think this rifle is amazingly cool and it makes me jelly)
It seems to me no self respecting fudd would have anything to do with the poodle shooting 5.56x45, so what caliber would
you
choose.
The ground rules (that most people will ignore)
1. must be a centerfire rimless cartridge (I.E. no 30-30WCF, the ultimate fudd caliber)
2. Must fit in an AR15 sized action (No .308 ect.)
The obvious choices are of course the 6.8SPC and .300BLK but I like to be different.
I think I would choose either the 7.62x40WT: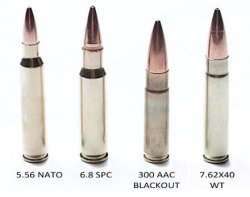 Cause mo' powa than .300BLK and because .30 is the only caliber there is.
Or the 25-45 Sharps:
'Cause the hyphenated nomenclature and the name "Sharps" brings to mind the black powder breech loader and that really jingles a fudd's jimmies (the JFJ factor).
Last edited: